Working with customer profiles
Each ticket in the system is linked to a customer profile. When looking at a ticket, the profile provides helpful context like internal notes, contact information, recent tickets (open/held ones in bold) and quick access to communication history.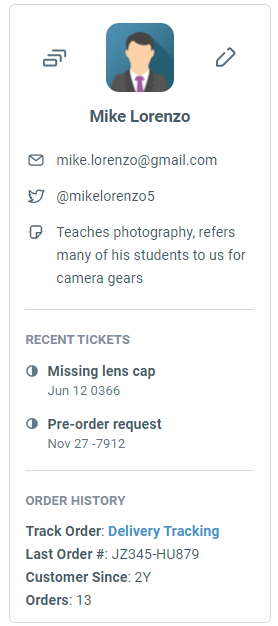 In the example above:
The team has shared a note on the profile (refers many of his students to us for camera gears).
The customer has other help tickets (with the subjects missing lens cap and Pre-order request). Clicking the subject will open the ticket preview.
Additional custom data from the company's internal systems (about recent orders) is loaded into the profile in real time. See how to integrate your internal systems or popular apps such as your Shopify store with Enchant.
In addition to customer information such as their name, contact details, and a shared summary. The customer profile also allows you to quickly edit this information using the Edit button to the right of the customer's profile picture.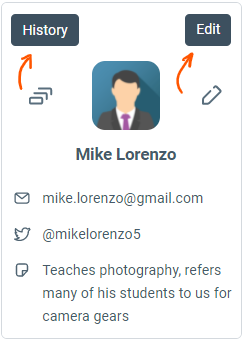 All previous and on-going tickets associated with a customer can be accessed via the History button on the profile, without ever leaving the ticket you are working on.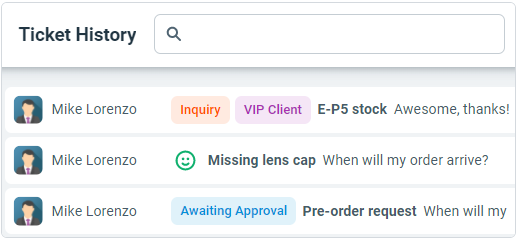 Clicking on the edit button takes you to a profile editor pop-up, where you can make changes to name, add new contact details, and add any shared notes.
You can add multiple email addresses, or phone numbers by clicking on the plus '+' button on the top-right edge of the 'Email' or 'Phone' list.
Sometimes duplicate profiles get created, such as when a customer has multiple tickets opened with different email addresses. In these situations, you can merge the profiles together:
Go to the customer profile and click the Merge Customer button at the top-right corner.

Search for the duplicate customer record by name, email address etc and press Enter. A list of customers matching the results will be shown below.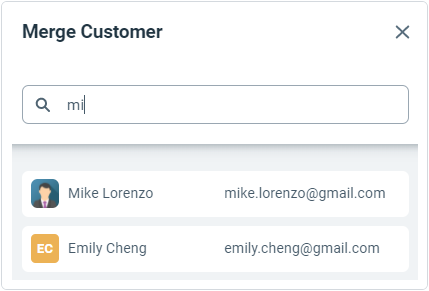 Select the desired customer from the list of search results. This will take you to a confirmation screen which will show you the direction of the records are being merged. All contact info and existing tickets from the source (top) customer will be moved to the target (bottom) customer record.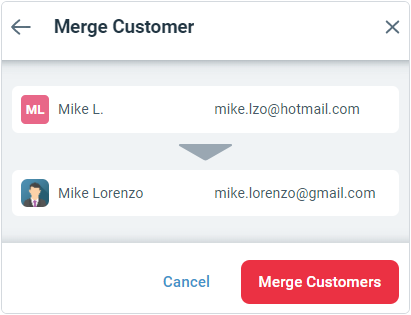 This action cannot be undone, so please take the time to ensure the selected customer records are correct before clicking the Merge Customer button.