Enhance customer profiles with data from your internal systems
Enchant can be setup to automatically display data retrieved from your internal systems on the ticket sidebar. With critical context at their fingertips, your team can save a lot of time... no more tabbing to your internal systems to search for customer details!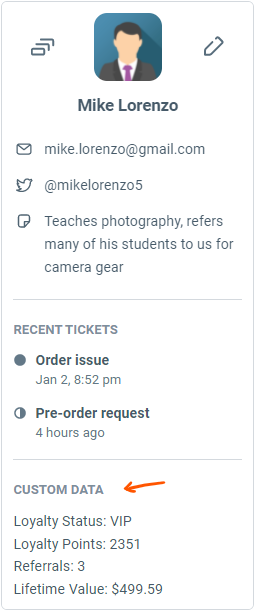 Installing this app will add a custom sidebar box to the ticket (under the customer profile) which pulls data in real time from your internal systems whenever a ticket is viewed. Use this to add additional customer details like recent orders, account status or links customer data in your internal systems.

This can be achieved with minimal development effort on your end. We have a guide to help your team get started.

1

To add a sidebar app, go to Apps page from the setting tab.


2

From the top right corner of the Apps page, click on Add an App button.


3

Click on the Sidebar App from the list of Available Apps.


4

Click Install Now button on the top right corner of the App info page.


5

Enter the details to configure the app for your sidebar.


Name: this is the title that will appear above this section on the sidebar.


Source URL: this is the endpoint that will be used to load the data.


Type: Customer or Ticket. this determines what data we send to the URL. If you pick customer, then this app will load data for customer profile on ticket and chat views. If you select ticket, then it will load on tickets but not on chats.


Applicable To: this limits which inboxes this app will be loaded for. You can use this to separate customer apps for different departments such as sales or support.

Once saved, real time business data from your internal systems will be displayed on your customer sidebar.