Working with multiple teams & departments using inboxes
An inbox represents a support email address and a team that manages requests sent to that address. You can think of it like a mailbox.
Every ticket belongs to an inbox. Within an inbox, a ticket can either be unassigned or assigned to a specific user. When a new ticket is received by an inbox, all members of the inbox are notified. Once assigned, notifications are just sent to the user the ticket is assigned to.
From the user dropdown, select a user.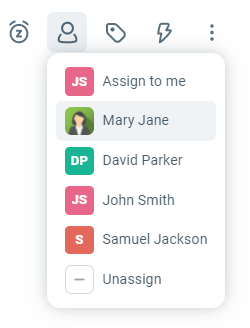 You can quickly assign a ticket to yourself by clicking Assign to me.
Sometimes, a customer accidentally emails the support team with a sales question. When this happens, the support team can just transfer the ticket to the Orders inbox.
When a ticket moves to another inbox, it is automatically unassigned.