Searching
The search button is available anywhere in the ticketing interface. You can search for tickets by typing any combination of words that appear in the ticket.

Clicking the button opens up a search panel, type in your search and click enter to see the results.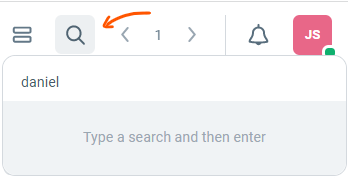 You can also search for tickets by:

customer email address or name (eg: john@gmail.com)


ticket number (eg: 42)


label (eg: billing)


The search tab has advanced search filters accessible from the sidebar. These are more precise than using the search bar alone.

For example, you could filter your search to tickets that are either Snoozed or on Hold, have the label Important, are assigned to David in the Support inbox.


List of filters that are available on the sidebar:

Created - quick time filters for when the ticket was created


Updated - quick time filters for when the ticket was last updated


State - filter based on the current state of the ticket


Label - filter by tickets that have selected label


Assigned User - filter by user that the ticket is currently assigned to


Inbox - look for tickets in the selected inboxes


Ticket Type: Twitter, SMS, Email, Chat, Facebook Messenger, WhatsApp, Phone or Contact Form.

As you update the filters, the search results update in real time on the right side.

Once you have filtered your results, you can perform bulk actions using the top action bar just like you would in any folder.